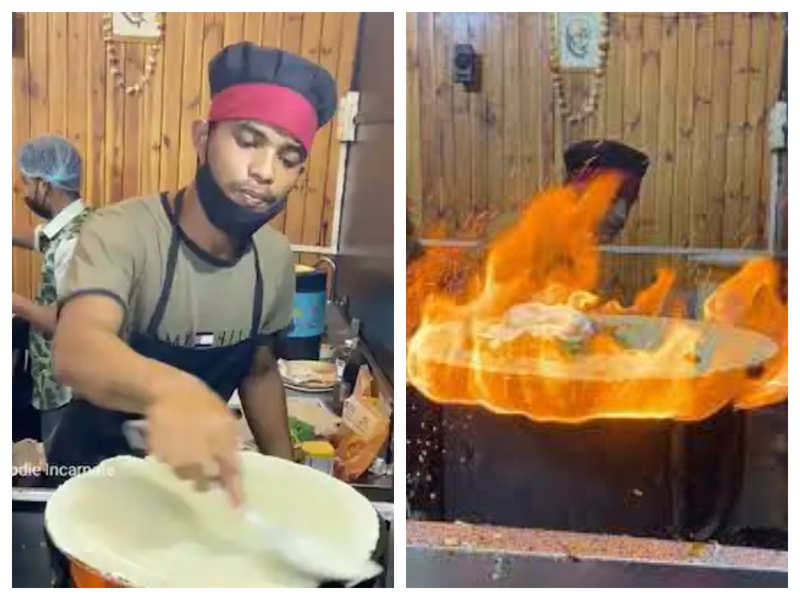 From Flying Dosa to Bahubali Dosa, social media has made us witness many variations of this South Indian delight that tastes best with sambhar and coconut chutney. The concept of fusion food has also made us witness Chocolate Dosa and Schezwan Dosa, which are far away from the traditional taste of this delicacy that is rich in potato filling sautéed with translucent onion, mustard seeds, and curry leaves. The latest addition to the list of innovative dosa recipes is Fire Dosa of Indore that is doing rounds on social media. Have a look at the video:
The video was first shared by food blogger 'Foodie Incarnate' and in no time it garnered over 637k views and more than 50k likes. As per the video, this unique Fire Dosa at Indore's Dosa Craft is priced at Rs. 180/- and what makes it a treat to the eyes is the dramatic effect of huge flames from all sides.

As per the video, first, the dosa batter is spread on the pre-heated tawa and then the vendor adds spices, vegetables, cheese, corn, and sauces to it. Next, he cooks the dosa on high flame with the help of a table fan, which adds to the dramatic effect and makes the preparation a treat to the eyes as it flares up the flame around the tawa. At last, he garnishes the dosa with cheese and serves it like rolls.
The preparation of this Fire Dosa is surely different and aesthetically appealing. But, will it please the taste buds or not is a question we want you to answer. If you are in Indore, give it a try and let us know your feedback in the comment section.
Thumb Image Courtesy: Instagram/foodie_incarnate
For scrumptious recipes, videos and exciting food news, subscribe to our free
Daily and
Weekly Newsletters.