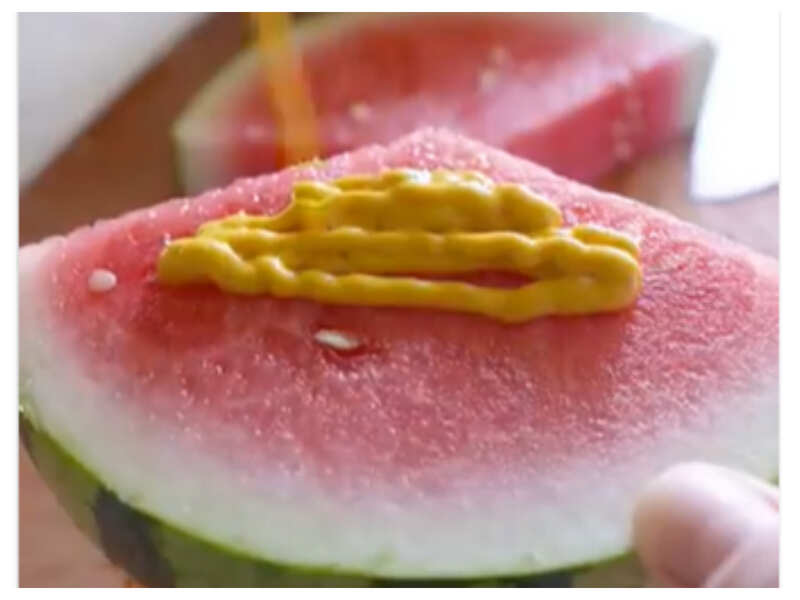 Summer is incomplete without seasonal fruits like watermelon, muskmelon, and mango. While we keep witnessing interesting recipes made with these seasonal fruits on social media, there are days when food bloggers and enthusiasts share something totally bizarre and leave you awestruck.
One food blogger left us awestruck recently when he paired raw watermelon slices with mustard sauce. Don't believe us? Have a look:
In the widely shared video, the blogger explains the process of making this simple and easy combination. To begin with, he cuts up slices of watermelon and then drizzles them with mustard sauce from a French brand, which he specifies should be preferred for the combination. As he bites into the watermelon with mustard sauce, he expresses, "It's so tangy, it's so vinegary and it matches so well with the watermelon's sweet juiciness. Trust me it's so good."

As soon as the video was posted, netizens started pouring in positive comments. One of the users said, "Did You know it's also really good with Feta cheese." While another user wrote, Makes sense. I love watermelon with ripe kimchi."
So, would you try this combination of watermelon with mustard sauce? Share your thoughts in the comment section.
Thumb Image Courtesy: Instagram/yayayayummy_
For scrumptious recipes, videos and exciting food news, subscribe to our free
Daily and
Weekly Newsletters.