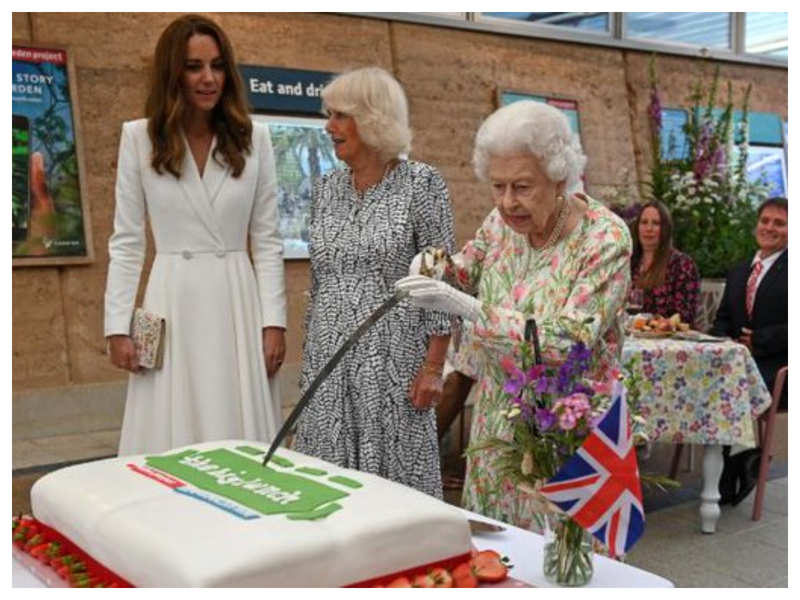 Royalties know the art of doing things differently and when it comes to Queen Elizabeth, you can always expect something unique. Recently, Britain's Queen Elizabeth made headlines across the internet by cutting a cake at an event with a ceremonial sword.
The Queen, Camilla, the Duchess of Cornwall, and Catherine, the Duchess of Cambridge attended the 'Big Lunch' in Cornwall which was held along the sidelines of the G7 summit in the United Kingdom.
According to a video, that has now gone viral, the 95-year-old Queen can be seen walking to the cake and cuts it with a big sword. Have a look at the viral video here:
Also, it was the Queen's official birthday on Saturday, 12th June, 2021. This year, her birthday coincided with the Big Lunch organized by the Eden Project. The initiative is a way of bringing communities and volunteers together and bond over food and friendship.
As soon as the cake cutting video was shared on the internet, it left netizens amazed and it went viral in no time and garnered millions of views. In the clip, an aide pointed out that there was a knife kept along with the cake. However, the Queen retorted, "I know! This is something that is more unusual," proceeding to cut the cake with the sword.
The internet called her a 'legend', and expressed that they want to do the same for their birthdays too. Have a look at netizens' reaction:
Thumb Image Courtesy: Twitter/AnEnigmaDave
For scrumptious recipes, videos and exciting food news, subscribe to our free
Daily and
Weekly Newsletters.