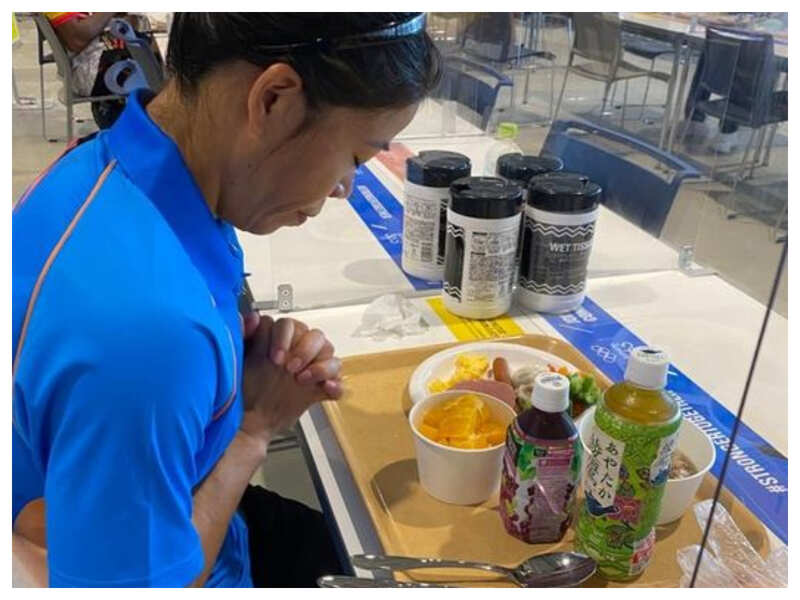 We all know that for a healthy beginning of the day, it is important to have a nutritious and filling breakfast, as it gives the much-needed kick of energy to keep us going throughout the day. And when it comes to the life of an athlete, a healthy breakfast is undoubtedly, the most important meal of the day. Recently, internationally acclaimed boxer Mary Kom was seen enjoying a nutritious breakfast at the Tokyo Olympics.
The champion shared an image on Facebook of herself having breakfast at the Tokyo Olympics. In the image, she's seen praying in front of the food. She captioned the post, "Breakfast time" and used the hashtags 'Tokyo2020′ and 'Cheer4India'.
If we go by the image, the healthy breakfast included a bowl of fresh-cut orange slices, a plate of scrambled eggs, sausages, and steamed vegetables. The meal also included a bowl of Miso soup, which is a popular breakfast dish in Japan.
As soon as she shared the image, it went viral and people started appreciating her act of prayer before eating her meal.
From Bhagavad Gita to Bible, food is worshipped and is considered as a gift of God, and every meal is offered to the spirit of God as gratitude before eating to express our thankfulness.
The prayer mentioned in the Holy Bible states, "Give us this day our daily bread, and forgive us our trespasses, as we forgive those who trespass against us, and lead us not into temptation, but deliver us from evil."
As per reports, the cafeterias at Tokyo Olympic Village will serve 48,000 meals each day mainly comprising of Western, Japanese and Asian cuisines to the athletes from across the world. Some of these cafeterias will also be open for 24 hours.
Thumb Image Courtesy: Facebook/@MCMaryKomofficial
For scrumptious recipes, videos and exciting food news, subscribe to our free
Daily and
Weekly Newsletters.