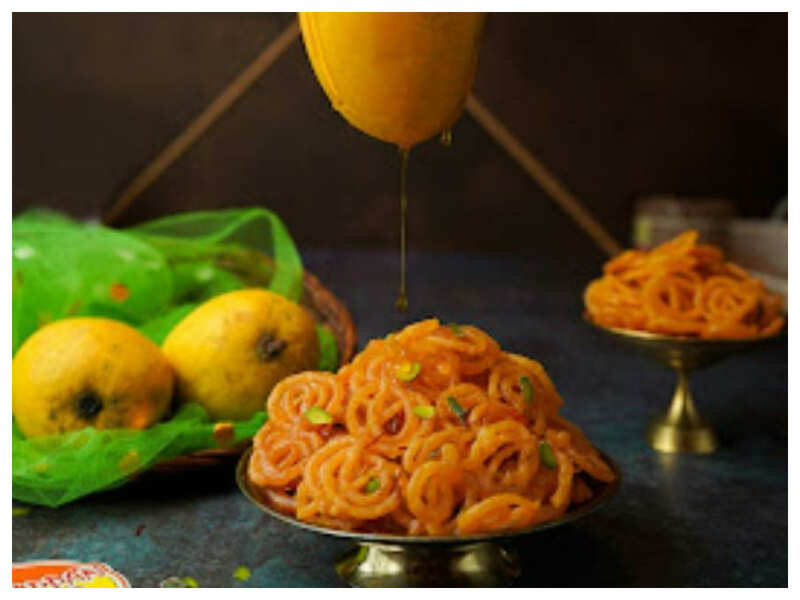 The summer food celebration is incomplete without mangoes and when everyone is relishing something interesting made with this seasonal delight, Lucknow's famous and iconic sweets and snacks shop Chhappan Bhog decided to break the monotony of regular mango desserts and made Mango Jalebi.
Nearly three decades old shop is known for making interesting desserts and sweets that have made headlines in the past. For the uninitiated, they are known for India's most expensive sweet called Exotica which comes at a whopping Rs 50000/kg.
Kshitij Gupta, co-owner, Chhapan Bhog feels that in the age of social media, you need to be innovative to beat the competitive market. "That is the reason every season and during every festival, we try to make something beyond obvious," he informs. And Mango Jalebi is a result of the same thought process, which is served in a shell of mango skin to make it look visually appealing.
"We already have seen or tasted several sweets infused with mango-like Mango Ghewar, Mango Barfi, and Mango Kulfi, but there had been no innovation around jalebi for the longest time and that gave me the idea to play around the flavour."
For Kshitij, the biggest challenge was to keep the original flavour of mango intact amidst the taste of oil, flour, and sugar syrup. He explains, "We experimented for a month so that the taste of mango unleashes with the first bite the customer takes. After a lot of hits and trials by our in-house chef we got the desired taste and decided to launch it."
Explaining the process of making this seasonal dessert, informs, "The locally sourced mangoes are first pureed and then mixed with the batter in the same puree is also added in the sugar syrup in a particular ratio due to which the flavour of mango doesn't diminish." "The delicacy is best enjoyed when served hot," he concludes.
Available only till 31st July 2021, this interesting jalebi is available after 5 pm daily.
For scrumptious recipes, videos and exciting food news, subscribe to our free
Daily and
Weekly Newsletters.